Tactile Problem/Solution Bank Project
3D modeling and printing should be accessible to every educator because 3D printed models provide an affordable alternative to purely visual images, offering  students a tactile means to understand spatial and other concepts.
Whether it is the creation of models and manipulatives, the conversion of 2D images to 3D tactile objects, or the ability to place Braille on designed objects, 3D printing allows teachers, and specifically teachers of the visually impaired, to have personalized learning aids that empower them to improve the learning experiences of their students.
This community project starts with designing tactile models for the visually impaired, but it is also about using design to ensure that teachers have access to educational materials that are accessible regardless of learning styles, physical, or sensory abilities. So if you're not sure that your model is 100% appropriate for a visually impaired student, we still encourage you to submit your solutions if you believe they can help other students understand a concept, lesson or idea.
The Tactile Problem/Solution Bank project aims to address the following topics:
Education — To educate students, educators and designers about best practices and the usability of tactile models to help them create work that can be used to teach visually impaired students.
Submission — To provide a way for teachers of the visually impaired to share their needs for specific models and for models that help explain specific ideas.

Request a model by submitting it to the Requesting a model from the Tactile Problem/Solution Bank.

Assessment — To allow a team of experts to assess the effectiveness of models submitted and to certify that they adhere to best practices.
Share — To publish a listing of approved models with expert comments and share created models through Youmagine and  Benetech's ImageShare. Use the tag #tactileSolution.

Educators who use the models should share their experiences with the models by completing this form.
This page will be a living document. As resources are created and best practices are refined, this page will continue to update.
While this project will be ongoing, there will be an exhibit of selected models at Construct3D 2018, an academic 3D printing and digital fabrication conference hosted by Georgia Tech on October 5-8, 2018.
---
---
Requested Models
| Model or Concept | Age group | Other information |
| --- | --- | --- |
| Imperial to metric volume translation for recipes outside of US. | High School | Encourage international recipe exchanges that can include the visually impaired on an even footing with other cooks and bakers. |
| Swift Playgrounds - buildable map to replicate the different maps found in swift playgrounds app "learn to code level 1". | High School | Students need a tactile representation of what is being visually represented in the Swift Playgrounds coding app. This app is accessible, however, students miss out on the valuable information the maps give them in order to solve their problem using code. Currently my solution is to use Duplo Legos to build these sets. An option for development is to build overlays that can go on top of the legos to indicate where a gem is, where a switch is, where stairs are, changes in terrain, etc to give more information to students. A second option is to build something from scratch that can be taken apart and put together into different formations based on the maps in Swift Playgrounds Learn to Code 1. |
Requesting a model from the Tactile Problem/Solution Bank
---
Submit your solutions:
When you have designed a solution and posted the STLs on Youmagine with the tag #tactileSolution, please complete this form.
---
Activities:
Tactile Picture Books
Contributor
:
Lizabeth Arum
Level
:
All
Duration
:
4 weeks
---
Have students:
---
Prerequisites
:
none
Abstract the Idea
Contributor: Lizabeth Arum
Level: All
Duration: 3 weeks
---
Have students demonstrate their understanding of a topic covered in class by having them create a model that would help a student who was visually impaired understand the same content.
---
Prerequisites: none
Research/Share
Contributor
:
Lizabeth Arum
Level
:
All
Duration
:
ongoing
---
Do you already use tactile models in your teaching practice? Do you think those models might also work with students that are visually impaired? If so,
share those models
.
---
Prerequisites
:
none
Programming
Contributor
:
Lizabeth Arum
Level
:
Advanced
Duration
:
ongoing
---
Contribute to the OpenSCAD project and make the programming environment accessible.
Github
.
---
Prerequisites
:
Ability to program and contribute to open source project
Do you have an activity that should be added? Submit it here.
---
Best Practices
This is an evolving resource that we hope will develop as this project evolves.
Ideally 3D printed models should be:
Easily reproducible.
Volumetric— if you are just creating an extruded version of a 2D graphic, is there another way to create this model?
Modles that make the Untouchable touchable
Models should capture ideas that cannot be easily conveyed by other means:

Scanned objects that are not easily accessible: artwork, body parts
Math equations in 3D dimensions
Microscopic objects
Very large objects
Things to Consider:
Size

Don't make the model too small. If possible, make your model same size of the actual object.

Use a reference scale symbol - with real comparison - bigger than a house, bigger than cell phone, about the size of a fly, etc.

Tactile Perception Limitations

Resolution of human fingertip is 25 dpi
Tactual field of perception is no bigger than the size of the fingertips of two hands.
Color information is replaced by texture information.
Visual bandwidth is 1,000,000 bits per second, tactile is 100 bits per second.

Symbols

Can you use symbols to indicate orientation, scale, weight?
For example, is your model the size of a fly or house?

Resolution—fingertip vs pixel
Orientation
Min/Max height for raised object

Higher things need more space around them to help discern things that are lower in height and in close proximity.

Perceptual details

What is the minimum size?

What is the minimum spacing

Weight

Can you make the model have the same weight as what it represents, or can you provide information about the scale?

Durability

These objects are touched and felt by hands and should not have parts that can easily break off.

Parametric

Can someone easily change your model?

Metadata

Include useful information (grade level, subject(s), material, dimensions, color)

Wall thickness

What thickness is too thin?

Edge treatment  

Models should be harmless to touch.

Use of braille (resist putting braille on object - use a symbols instead)

orientation/direction of braille
size of braille
placement or offset from edge
Additional Links to Best Practices
---
Standards
Braille Standard
Common Braille characters are based on a 6-dot cell having two columns of three dots. If the empty cell is counted as the space character, 64 unique dot combinations are possible with a six-dot cell. Dot height is approximately 0.02 inches (0.5 mm); the horizontal and vertical spacing between dot centers within a cell is approximately 0.1 in (2.5 mm); the blank space between dots on adjacent cells is approximately 0.15 in (3.75 mm) horizontally and 0.2 in (5.0 mm) vertically.
Minimum Line Height – 1.6mm (TAME), braille dot height – 0.5mm
Line styles in Appendix F of BANA Tactile Graphics Guide (note: converted to millimeters)
Arrowheads
3.4.3.7 – If an open arrowhead is used, the two sides of the arrowhead should be an equilateral triangle with the two sides being the same length as the undrawn base. The shaft of the arrow should be spaced 3.3mm from the apex.
The shaft of the arrow should be at least 19 mm long. If the shaft of an arrow is too short the item may look like a point symbol rather than a direction indicator.
Circle Graphs
6.3.3 – The outline of the circle should be tactually distinct from the lines separating the divisions.
Clock Face
Circle: 0.4 stroke/3mm dash/1.5mm gap, butt-capped
5-minute ticks: 0.8mm stroke, 12.5 mm either side of circle
Numbers: 6.5mm distance from ticks
Hour hand: 2.1 mm stroke with 4.2mm gap, round-capped
Minute hand: 1.5mm stroke
Grids & Graphs
Gridlines should be the least prominent lines on the graph
0.3mm stroke; 0.6mm dash; 1mm gap
Axis lines should be stronger than gridlines and include arrowheads at outer end (follow print whether double- headed or not)
.8mm stroke; solid line
Plotted line(s) should be tactually the strongest line(s) on the graphic
1.5mm stroke; solid; if line is dashed in print, make it dashed
Point of origin (O) should be included only if it is shown in print
Sometimes it is the letter O; other times it is a zero—follow print
Y label placed above (preferred) or to the left of arrowhead
X label placed at end (preferred) or above arrowhead
If space is needed, some numbers may be omitted from graph
Always attempt to show at least one axis number for reference
Numbers are placed to left of y-axis and below x-axis
No number indicator used for x- or y-axis coordinate numbers
Dots 1,2,3 should align with vertical grid lines/ ticks (ignore minus sign) and align dots 2,5 with horizontal grid lines/ticks
Shaded regions should be distinct to recognize but not overpower plotted lines or vertices
---
Resources
Have a resource that should be added to the list? Add it here.
---
Software
---
Inspiration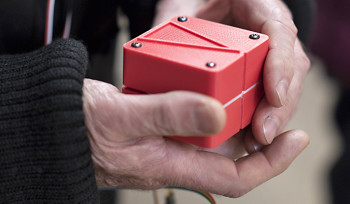 ---
Here are resources for two models on LibraryLyna that include how-to-use guides:
---
To see the introduction to this project, go to the The Tactile Problem Community Project blog post.